Michele Lewon, P.L.C., is dedicated entirely to the practice of family law. 
Family law includes divorce/dissolution of marriage, separation, paternity, custody, visitation and parenting time, child support, spousal support, high asset property division, premarital/antenuptial agreements, complex divorce litigation, and all of the pieces that are involved in each of these actions. 
The firm also both participates in and conducts mediation in the area of family law. 
Whether you need a resolution by way of litigation, settlement or other negotiated efforts, or a combination of both, Michele Lewon, P.L.C., will provide you with personal, professional, and effective service. 
With licenses in Nebraska, Iowa, and South Dakota, Michele Lewon, P.L.C. has the opportunity to provide you with services in any part of the tri-state area.
Michele has practiced in the Sioux City area for nearly 17 years.  She grew up as a native of the area in South Sioux City, Nebraska.  Like all good Nebraskans, Michele attended the University of Nebraska-Lincoln, where she graduated with her B.S. in Criminal Justice in 1998 and her J.D. in 2002. 
Through law school, Michele clerked with the Nebraska Attorney General's Office, where she was able to work as a senior-certified law student, as well as with the Civil Clinic at the law college.  She was elected the Executive President of the Student Bar Association in 2001-2002.  She was also elected the ABA-LSD representative for the University of Nebraska in 2001-2002, traveling to Washington D.C. for the ABA-LSD annual meeting.  Michele qualified to be a member of the Allen Moot Court Board after her first year of law school, serving on the board from 2000-2002.  She also participated in the Allen Moot Court Competition in the spring of 2001, winning the competition with her partner, and going on to compete in the National Moot Court Competition.  She graduated from law school with the honor of being a member of the Order of the Barristers. 
She is a member of the Iowa, Nebraska and South Dakota State Bar Associations, Woodbury County Bar Association, and American Bar Association. She is also on the Woodbury County Bar Association Board, where she serves as Treasurer.
Michele began her law practice at a firm in Sioux City, Iowa, that focused on general practice, with Michele's focus in litigation.  She obtained her bar licenses in Nebraska, Iowa, and South Dakota, in order to service clients in the tri-state area.  Her skills in litigation included business litigation, criminal law, and family law. 
As she progressed and learned, she created her niche in the area of family law.  She met her soon-to-be law partner, Brad, in 2003, litigating a high-profile case against each other.  After the case ended in 2005, Brad offered Michele a position within his office.  After a year, Michele accepted Brad's invitation, and the two began the firm of Kollars & Lewon, P.L.C., in October of 2006.  Since that time, Michele has worked to refine her skill set in the area of family law and has concentrated her focus on only that area of practice, extending the firm's coverage for services in Iowa, Nebraska, and South Dakota. Brad passed away in 2018, ending the Kollars & Lewon, P.L.C. firm. 
Michele spends her spare time running and doing triathlons, having competed in several marathons and finished the Wisconsin Ironman in September, 2013.  She enjoys anything outdoors, including hiking, cross-country skiing, and kayaking.  She also loves to travel, and has been all over the world, including Machu Picchu, Myanmar, Vietnam, Tanzania, Brazil, Germany, Italy, Czech Republic, and Spain.  She has hiked in several of these areas and did reach the summit of Mt. Kilimanjaro in September of 2009.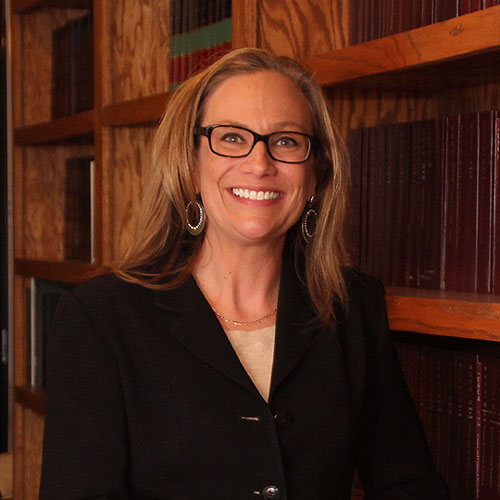 VOLUNTEER WORK
• Michele was on the Board of Girls Inc of Sioux City for several years, serving as its President in 2011.
•  She has worked with Noah's Hope Animal Rescue since 2012, and has fostered over 65 dogs during that time.
•  Michele also works with the International Order of the Rainbow for Girls, and has worked in some capacity with that organization, including being on their Executive Board, since 2005
Lauren Whitt joined Michele Lewon, P.L.C. in January 2022. Lauren is a native of Western Iowa and attended high school at Westwood High School in Sloan, Iowa. She then attended Buena Vista University in Storm Lake, Iowa, and graduated magna cum laude with a B.A. in Political Science and English. A
After graduating from Buena Vista University, Lauren worked as a Finance Assistant for Congressman Bruce Braley's 2014 U.S. Senate Campaign. Following the campaign, she moved to Queensland, Australia, where she worked in administration at Queensland University of Technology.
Upon returning to Iowa, Lauren attended Drake University Law School. She graduated from Drake with honors in 2021. While attending law school, Lauren worked as a law clerk for Disability Rights Iowa, the ACLU of Iowa, and Roxanne Conlin & Associates. She was a member of Drake Law Women and was Managing Editor of the Drake Journal of Agricultural Law. She was also a student attorney for the Immigration and Refugee Clinic at the Drake Legal Clinic.
Lauren practices family law, and is licensed in Iowa, Nebraska, and South Dakota. She is a member of the Iowa State Bar Association and the Woodbury County Bar Association. When she has spare time, she enjoys watching movies, reading, enjoying the outdoors, and spending time with her family.